Golf and business is a perfect match to build your business relationships, and to seal your deals on the golf course. With our forte in teaching we have designed programs for your employees, valued clients, partners or performers.
Go through our golf programs and find out which one suits you.
Corporate Day Out – Typically designed for your needs, this day out is ideal for a corporate team building experience. Leave all your worries behind, and join us in a golf outing atmosphere
Golf Clinic – Focuses primarily on training, corrections and improvements required to ease out your golfing worries
Golf Workshops – Powerful skills and endless golf tips for beginners and avid golfers will enhance your game of golf
Golf Weekends – This endless golf experience will specialize in bringing likeminded people together through a game of golf.
Conference Facility available for indoor sessions and presentations.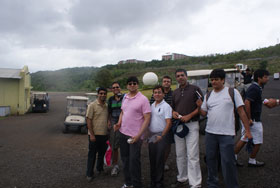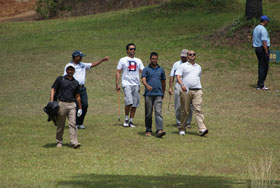 For team building activities we have programs such as Confidence Building, Morale Boosting, Team Spirit and Leadership Quality Enhancement through Golf.
Corporate Day Out and Golf Clinic Advantages
Unlock and develop practical leadership skills
Improve your performance level with satisfaction and effectiveness in leading others
Assess your own personal strengths and areas
Increase productivity and improve quality by learning to inspire, energize and intellectually stimulate your staff
Develop skills to effectively deal with pressures of work and meeting the challenges of change
8 hour Golf Clinic will comprise of
Coaching by the industry experts
In-depth explanation of various aspects of golf
Introduction to Golf Equipment
Discussion on Golf Terminology
Understanding the scoring system
Breakfast, Lunch & Evening Tea inclusive
Based on your requirements, Golfnext will arrange a weekend away from the city hustle to play at various locations.