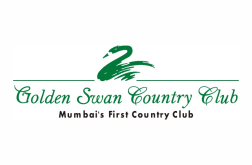 Golden Swan Country Club Golf Course
Golden Swan Country Club, Thane located 45 minutes from Mumbai at 1300 ft above sea level spread over 26 acres, developed the first golfing facility since 1937 in 1944.
Golden Swan Country Club has been interested in developing golf and to encourage golf among juniors, a 4-hole golf course was developed in 1944. The coaching and Training rates are reasonable to encourage more people to learn Golf. In 1998-2000 we imported a Golf Simulator with 33 Golf Courses from the United States for Golden Swan Country Club, in Vile Parle (E), which was probably the only Golf Simulator in India at that time.
Three years ago in 2009 we created an association with GolfNext Academy founded by Mr.Suresh Nanda, along with India's topmost coaches Mr.Benny D'Costa and Mr. Suresh Vasudeva for imparting coaching to juniors. We have more than 500 new golfers who were trained at the Academy and are now playing for different golf courses in Mumbai.
With increased interest in Golfing and shortage of playing area, we have decided to extend our 4-hole course to 9-hole course. We are in talks with American Golf Designing Company and a prominent Indian Architect for designing the 9-hole course. Golden Swan Country Club is offering pre-launch Golf Membership for 100 members.