Benny D'Costa
Ex Director
Benny D'Costa a foodie by nature and a master of this game! Golf has been running in his blood for generations. He has imbibed the intricacies of the game over 35 years. Benny loves to experiment with cuisines whenever he finds time from Golf. WARNING Benny expects you to practice the same thing for 200 balls after each session, or atleast before he sees you next!
Co-promoter
Started teaching at Willingdon Golf Club, Mumbai in 1974
Certified teaching professional by the Indian Golf Union, The Indian National Golf Academy and 'Elite player development golf professional'
Accredited and specialized putting instructor
Certified and Accredited Advanced Club Maker – Golfsmith Texas
Authorised Ping Club Fitter
Certified golf technician through the Golf Works Columbus Ohio, and the Golf Smith Austin Texas
Full-time Head professional at the Willingdon sports club from 1980 to 2002
Program Director and Head Professional for Junior Golf at Bombay Presidency Golf Club, Mumbai
Board Member Professional Golfers' Association of India
Suresh Vasudevan
Ex Director
Call him Suru the Gadget Guru. A lesson with Suru is an extravagant learning experience. Suru, a cool book worm is the most hysterical coach at the academy, and the one with great knowledge.
Co-promoter
Started playing golf at the age of six
Enrolled at United States Golf Teachers Federation at San Diego
Later moved to the Golf Smith school in Austin Texas for a course in Club making and repairs
Has taught at the Julian Krinsky School of GOLF, rated the top 3 junior golf schools in the world
Certified at the PGAI as a professional teacher. Soon started teaching at PGC
Member BPGC since 1977. Started teaching here in 1999
Attended junior training camps pan India with Dr Donato Di Ponziano
Attended an Advanced Teacher's Training Course in Malaga Spain conducted by The PGA of Europe, based on an invite from Dr. Donato Di Ponziano
Shared learning & teaching experiences at the seminar with the likes of John Jacobs, Denis Pugh, Donato Manuel Pinero, Harold Swash and Alistar Cochran
Has attended a Harold Swash – Putting school of excellence certification course held at The NGAI
Completed an Elite Player Development Course at The NGAI conducted by David Kearny
Conducted several Corporate Clinics with brands like Reuters, Johnnie Walker, Diageo, BNP Paribas etc.
---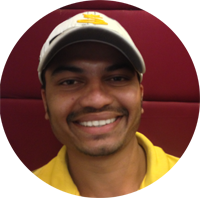 Prashant Dhumal
With an overall Golf experience of 12 years Prashant is undoubtedly unbeatable when it comes to demonstrating his golf skills at the academy, just like a copy book. The love for the game of golf reflects strongly in this self taught coach who will always set goals in the form of a challenge.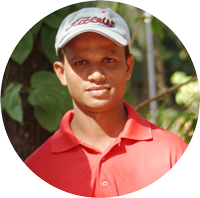 Manohar Dhangde
Manohar has a teaching experience of three years is the most soft spoken coach of the academy. Strongly believes in perfection and this quality truly reflects in his ways of teaching.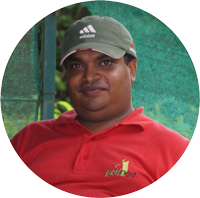 Nikhil Kumar
Nikhil is well versed with the theoretical aspect of golf. He is a man of few words but always parting with tips and tricks in the most subtle manner.

Siddharth Waghmare
With his 10 years of coaching experience Siddharth is extremely thorough with the game and will push you to the limits to learn and acquire knowledge about golf. His continuous demonstrations while teaching are a true example of his perseverant teaching tactics.

Magan Subbarao
With 33 years of experience in Golf and 28 years of experience in Golf Coaching. Magan Subbarao has excelled himself in this profession. With his shear hard work and dedication he has reached at a level that he now wants to give back what he has learned in his amazing golf career. His coaching technique might be different from other coaches because he avoids learning by rate and tries to make you understand concepts. He believes that determination, hard work and sincerity would help you achieve success.

Pravin Dhumal
With an overall Golf experience of 10 years Pravin's passion is coaching golf. His philosophy is that no matter what level of golfer, "having fun" should be the #1 priority while learning and playing. "By getting the student to be more aware of what they are doing and why they are doing it, they can become their own golf coach".